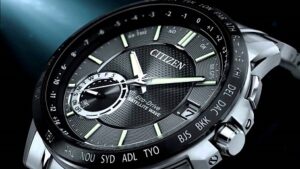 The Citizen Watch Company is a manufacturer of fine time pieces, known for well-built, reliable, and reasonably priced watches. Lesser known, is their illustrious history, interesting firsts, and engineering prowess. Citizen was founded in 1918 and named in 1920 by then Mayor of Tokyo (a good friend of the founder) to signify the dream of high-quality watches that every citizen can afford. Citizen has spent the last century developing innovative technologies and building up its skills as a manufacturer in its bid to explore the essence and infinite potential of the watch.
Built 100% In-House
Citizen watches are manufactured in Japan. From the integrated circuits and electronic chips to the dials, hands, and movements, every part that goes into a Citizen watch is made in-house by the Citizen Watch Company. In fact, Citizen even manufactures the equipment that makes their parts!
Rapid Manufacturing Process
Citizen perfected automated manufacturing line in the late-1970s with their mass production of quartz movements. One line of quartz-manufacturing machinery can produce a quartz movement every second (which amounts to thirty million units every year). At one plant, there is at least 10 of these machinery lines. The manufacturing line is completely automated and requires minimal human intervention to setup and repair as needed.
Hand-Assembled Quality
For the higher-end model of watches, such as the Citizen Chronomaster, the movements are hand-assembled by a single watchmaker (known as Meisters and Super Meisters). To qualify as a Super Meister, you must have 30 years' experience as a watchmaker. Super Meisters are responsible for the hand-assembly, finishing, and regulation of all high-end model Citizen watches.
A Hundred Years of Innovation and Technology
Citizen has taken the watch in several directions by creating advanced satellite-synchronized watches and having pioneered the first solar-powered quartz watch in 1976. In 1978, they manufactured the thinnest quartz watch (comprised of 85 components and its movement measuring only 1mm thick). Currently, Citizen holds the world record for time piece accuracy with its Caliber model (+/- 1 second/year). They remain committed to expanding the possibilities of the watch in the years ahead.
Citizen's philosophy is "Better Starts Now", and it is the simple belief that no matter who you are or what you do, it is always possible to make something better – and now is the time to start doing it. They believe that better and now are both infinite, and there is always a next 'better' or 'now' in which you can start pursuing it.
Like Citizen, Johantgen Jewelers of Minneapolis is committed to providing the best quality workmanship along with the very best customer care. Call us or come by today to see a full array of Citizen watches. Stop by our shop today at 115 Willow Bend, Crystal, MN or give us a call at 763-537-7233.