Jewelry Repair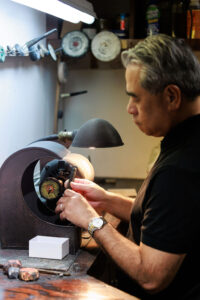 Johangten Jewelers has established themselves as a leading provider of jewelry repair in Minnesota and is recognized as a premier repair facility in the Midwest. Whether your repair is simple or complex, our expert craftsmen have the experience and ability to bring your piece back to life. Our unmatched experience is joined with our in-house repair facility that features the latest technology, equipment and tools to ensure that we can take care of your jewelry pieces in our store, without the need to ship them to an offsite facility.
Our Jewelry Repair Services
Whether you are bringing in your engagement ring to have it cleaned or you need an extensive repair, your jewelry is always regarded with the highest respect and treated with care. We want to ensure that your jewelry is maintained properly so that you're able to show it off and wear it with pride. We offer an extensive number of jewelry repair services for our clients from polishing, engraving, to full-on restoration right here in Minneapolis!
Begin the Jewelry Repair Process Today
Stop by our store and we can take a look at your piece of jewelry and hear from you how we can be of service. Or if you have any questions please contact us or give us a call.