Jewelry Appraisal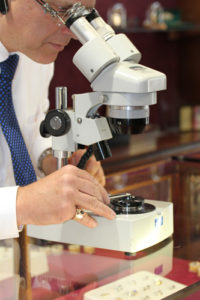 Your jewelry is valuable to you – you love it, treasure it. But along with the emotional value, it does have a monetary value as well. You may have inherited jewelry or watches or received them as gifts, so you don't know exactly what their current value is. If you want to insure your jewelry and watches, you need to know what they're worth (and not just to you) A jewelry and watch appraisal will answer these questions.
At Johantgen Jewlers, appraisals are done in-store so you can quickly and easily find out the value of your jewelry as well as receive official documentation.
In an appraisal, an appraisal expert will inspect your jewelry, diamonds and gemstones. Bring documentation such as sales slips, diamond or gemstone grading reports and warranties if you have them. The appraisal will take into account:
Current competitive retail prices
Brand names, serial numbers, model numbers (for watches), identifying manufacturer's marks on diamonds
The karatage for gold; the stamping of the percentage on platinum.
The metal of prongs and mountings
For diamonds and gemstones, the appraiser will evaluate the 4Cs (cut, color, clarity and carat weight)
At the end of the appraisal process, you will receive a detailed report, with pictures and diagrams, and a statement of what your jewelry or watches are worth.
Have Your Jewelry Appraised Today
Come visit our store and we can assist your by appraising your jewelry or watch in-shop. Or if you have any questions please contact us or give us a call.