Gold Buying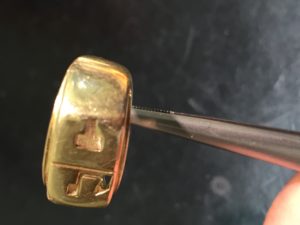 Do you have some gold that you've been interested in selling, but you're not sure who to trust when it comes to receiving a fair and honest price? Thankfully you've come to the right place. At Johantgen Jewelers, we have been in the gold buying business since 1896. This means that we've been providing the highest quality jewelry, gold and diamonds to customers throughout Minnesota for well over 100 years. That level of dedication to our craft shows through with each customer interaction that we have. We're here for the long haul and we want the next generation to still be around to help our children's friends and their children's friends and family and so on. The reason that we've been able to be this successful is by putting the customer first and always looking out for their best interests.
Honest & Fair Quotes for Your Gold Jewelry
Whether you're looking to sell your family heirlooms or jewels that you no longer need or want, Johantgen Jewelers would be honored to offer you a quote to purchase your items. Whenever we offer a price for your gold jewelry, we'll always explain exactly how we came up with our figure so that you can better understand the value of your items. We want to be your jeweler of choice for decades to come, so we'll always do our best to provide the fairest possible value for your gold items.
Gold Prices Are on the Rise
You may not be aware of this, but over the past several decades gold prices have been on the rise. We never truly know what the gold market is going to do so if you've ever been interested in selling any of your gold jewelry, now may be the time to bring it in to Johantgen Jewelers to see how much it's actually worth.
Why Choose Johantgen Jewelers?
There are a whole host of reasons why you should choose Johantgen Jewelers as your gold buyer, a few of which include:
Over 100 years of experience in the industry
No appointment necessary
Locally owned and operated
One of the highest payouts in the area
Laser focus on customer service
We also buy diamonds, platinum and silver
Ready to Have Your Gold Appraised?
If you're ready to have your gold jewelry appraised, feel free to give us a call at 763-537-7233 or stop by our jewelry store at 115 Willow Bend in Crystal, MN. One of our experienced gold appraisers will sit down with you to examine and value your jewelry. We never employ any type of high-pressure tactics. We simply provide you with what we think is a fair value for your gold and allow you to decide if you'd like to sell your jewelry or not. Either way, we hope that if you have any type of jewelry needs in the future that you'll think of the experienced team at Johantgen Jewelers. It has always been our goal to provide the best possible value to each and every one of our customers. Please let us know if there's anything that we can do to help you. We can always be reached by phone or email at [email protected].