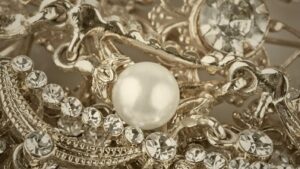 At Johantgen Jewelers, we specialize in restoring old jewelry such as vintage, antique or estate jewelry. Should you refurbish your jewelry? Or use the diamonds and gemstones to make a different piece?
If it's a style you love, we recommend jewelry restoration. Our antique jewelry restoration services range from replacing old style diamonds on an antique ring to complete restoration of estate jewelry. We are one of the few jewelers to have the equipment and skill to repair costume jewelry also. Vintage jewelry has often had previous repairs. Unfortunately, repairs on old jewelry tend to be of poor quality. Our finely detailed repair work can usually undo past damage, restoring your vintage jewelry to its original, beautiful condition.
Replicating An Heirloom
If you have an antique or vintage engagement ring that's been loved and worn for many years, we may suggest making a replica instead. We can remake it exactly like it was when it was new, using your original diamonds (and in some cases, the original metal, too.) Johantgen Jewelers has recreated hundreds of antique engagement rings and other vintage jewelry pieces, and it's all done on premises in our workshop in the Minneapolis-St. Paul, MN area.
Repurposing Antique Jewelry
If it's not a style you love, you may want to create something new with the gemstones from the original piece. We can remove your diamonds and gemstones and set them into a new or existing piece of jewelry. Your sentimental stones are photographed, described, and insured while they're here for your security, and our highly skilled jewelers are experts at setting stones into new mountings.
Restoration And Repair Services
Antique, vintage and even costume jewelry can be repaired in our workshop. Thanks to our veteran jewelers and our specialized equipment, we're able to restore vintage rings other jewelers won't touch. Some of our services include:
● Stone replacement
● Rebuilding prongs, settings and supporting galleries
● Rebuilding bent or crushed old jewelry
● Polishing and recutting worn gems
● Repairs in platinum, gold, silver, and costume jewelry
All work is done on-premises, and your jewelry is photographed, described, and insured while at Johantgen Jewelers. Estate jewelry is often one's most sentimental piece. We will take the utmost care of your jewelry!
Restoring Antique Jewelry In Minneapolis
Whether a family heirloom or a piece from history, we at Johantgen Jewelers would be thrilled to assess how we can help you with your antique jewelry repairs. Give us a call today at (763) 537-7233 or come visit us in person!