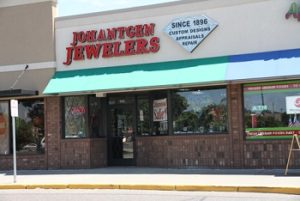 This has been a tough year for many local businesses and many local families. As COVID-19 has kept us home more, local businesses have worked hard to keep their doors open. As we finally come out of the pandemic, and get back to our normal lives, we can start to relax and enjoy ourselves again. The economy is showing signs of a dramatic recovery and there are many things to be thankful for. If you are looking for a way to mark a special birthday or anniversary, take the next step with your significant other or show your love or appreciation to someone, a beautiful piece of jewelry might make the perfect gift. Johantgen Jewelers is a family-owned jewelry store ready to help you find the perfect piece of jewelry for your needs.
Custom Jewelry Design
Our local jewelry store offers unique, high quality jewelry including diamonds and watches at competitive prices. We can design a custom piece for your special someone – we design diamond jewelry as well as engagement rings that show your love without breaking the bank. We use the finest materials available and really get to your taste and your preferences so that the final product is exactly what you are looking for. We take pride in our work and enjoy helping families find a piece of jewelry that can be worn for many years and passed down to future generations of your family. Creating a one of a kind piece of jewelry for our customers is truly a passion of ours. We offer excellent workmanship and professional, courteous and responsive service. If you have questions at any step of the process, give us a call and we will give you an update and make sure that you are taken care of.
Local Minnesota Jeweler
In addition to helping you find or creating the perfect piece of jewelry, we can also repair and restore jewelry or watches that you may have that are damaged. We do these repairs onsite so you can be confident that your piece will be in our care at all times. Our store is located in Crystal, MN, convenient to the entire Twin Cities area. Now is a great time to invest in a piece of jewelry that will show your love and commitment. For more information or to speak with a member of our team, give us a call today at 763-537-7233.