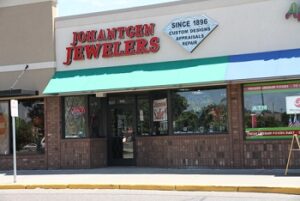 What kind of Valentine's Day gift will you give your partner this year? The trick to picking out the perfect gift for your partner is quite simple – pay attention! By carefully paying attention to your partner's sense of style, likes and dislikes, and any hints they may be dropping, you'll already have a solid idea of what gift to get your partner. But if you're still struggling, don't worry – Johantgen Jewelers is here to help. If you're giving a jewelry gift this Valentine's Day, keep our three tips in mind to find that perfect piece of jewelry.
Keep Wearability In Mind
Before you buy your partner a ring, take a minute to reflect; do you ever see your partner wearing rings? Engagement rings are obviously a little different, but if you're shopping for a fashion ring, keep this in mind. Same with any other type of jewelry. Take a minute to think about whether you've seen your partner wearing a ring, a necklace, or a bracelet before you buy one of those items.
Consider The Metal Type
If you're looking to secure that perfect romantic jewelry gift, you can't go wrong with rose gold. Gold naturally occurs in rich yellow; to create colored golds, different elements are added to yellow gold, creating whites or greens or reds or blushing rose golds. The soft pinkish hue of rose gold comes from copper elements added to yellow gold, creating that lovely blush tone. Rose gold is also a stunning metal to pair with just about any gemstone. It adds a romantic, sophisticated, and elegant sense to jewelry, and it looks beautiful on all skin shades and tones.
Stones Or No Stones?
The question of gemstones rises when you consider your partner's style and their activity level. Does your partner work with his/her hands day in and day out? If so, consider a bezel-set stone or small, delicate gems for their ring. Does your partner work in an office where bold, sensational jewelry is frowned upon? It may be wise to turn towards something soft and subtle. If you do decide that gemstones are the way to go, brilliant pinks, purples, and reds are charming choices for Valentine's Day gifts!
Valentine Gifts
You're sure to pick a winner when you shop for Valentine's Day gifts at Johantgen Jewelers. Let our experts guide you through the process of picking out the perfect gift for your loved one. Johantgen Jewelers are Minneapolis jewelers that you can count on no matter what it is that you need. To learn more about our quality jewelry services, give us a call today at (763) 537-7233 or email johantgen@live.com.