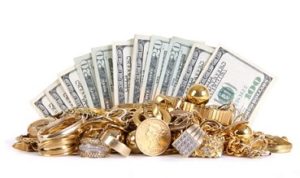 When you look at the old pieces of gold jewelry sitting in your drawer, you may not realize that your particular piece is worth much more out on the market. While we can never take away the sentimental value a piece of gold jewelry may have for you, it's important to understand that your jewelry may still be fluctuating up and down in price as it sits in the drawer. Gold buying and selling is not a flat, standard price. It is coupled with research on the gold piece itself and the state of our country's economic health. So, in order to get a deal that you deserve, it's important to take it to a reputable gold buyer that's not going to hustle you out of the money that is rightfully yours. At Johantgen Jewelers, we are an honest, family-owned and operated business in Minnesota that will provide you with honest and fair quotes for your gold jewelry. If you are looking to sell your gold jewelry, you can be confident in our meticulous evaluations.
Gold Prices On The Rise
As we take a look at gold prices and our macroeconomic conditions, we can sufficiently observe that this precious metal is sure to rise in prices. While no one can predict with 100% certainty, we can confidently say that at this moment, gold prices are steadily rising. At Johantgen Jewelers, we take all types of gold. Whether you are looking to sell your family heirloom, or you have broken gold jewelry that is not easily repaired or you no longer want, we can help.
Fair Gold Pricing In Minneapolis
With over 100 years of experience in the gold buying industry, we have a very good understanding of its worth. There are no appointments necessary to sell your gold, and we will give your jewelry the time and evaluation process it deserves. One of our expert professionals will evaluate your piece and provide you with an offer. We will always explain to you how exactly we came up with our figure so that you can understand the value of your item. We are known for providing one of the highest payouts in the area and we are always laser focused on providing you with the highest quality of customer service.
For more information about our gold buying services in Minnesota, give Johantgen Jewelers a call today. Contact us today at (763) 537-7233 or by emailing [email protected].