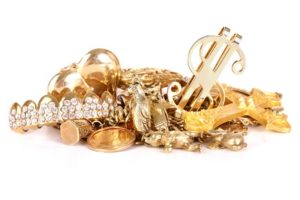 Whether you are buying or selling your jewelry, it's important to always come back to the people that you trust the most. Whether you are celebrating something special and looking for something new, or you are starting fresh and getting rid of jewelry you no longer want, Johantgen Jewelers is always here. Started back in 1896, Johantgen Jewelers is known for being trustworthy and loyal to both our customers and the community. As a family owned and operated business in the Minneapolis area for over 125 years, we celebrate every moment of joy we can spread. The reason for our success is largely due to always putting our customer first and looking out for their best interests. Can every gold buying place in Minnesota say the same?
Honest And Fair Pricing For My Scrap Gold
When you are choosing to let your old jewelry go, it can be one of two things: easy or difficult. If it is a treasured piece, it can be incredibly hard to let that go. However, even if it's a piece that doesn't mean that much to you, wanting to get the most out of it can be tricky. At Johantgen Jewelers, we pride ourselves in always being fair and honest with our customers. Afterall, you are the ones that have kept us in business for so many wonderful years. In return, we are honored to offer you a quote to purchase your items. We provide the fairest value quote possible for your gold items. Not only do we give you the quote, we also give you the background to our reasoning. We will explain, in detail, how we came up with that figure, so you know and understand the value of your items at hand. There are never any hidden agendas here at Johantgen Jewelers. Only honest and fair pricing for everyone.
Gold Prices Rising
Right now, and over the past several decades, gold prices have been on the rise. If you are considering selling your gold, now is truly a great time. Even if you are just pondering the idea, bringing it in to know just how much it's worth can be greatly beneficial to you. With many years of experience, our professionals have incredible knowledge on the gold buying industry. Not only are we looking at the value of your piece itself, we are also consistently studying trends in the market so that we can be confident in our offer to you for one of the highest payouts in the area.
If you are interested in selling your gold, let the most knowledgeable and experienced take a look. For more information about our gold buying services or to book an appointment with one of our gold appraisers, give Johantgen Jewelers a call today. Contact us at (763) 537-7233 or email johantgen@live.com.