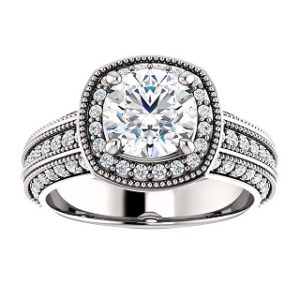 Jewelry is not always an accessory piece. Sometimes jewelry is more than that. Sometimes jewelry is symbolic. Sometimes jewelry is sentimental. Sometimes your specific piece of jewelry is the most precious thing you own. At Johantgen Jewelers, we are in the jewelry business for those special moments. For the moments when an idea or dream for a customer comes to life. Customizing jewelry design is one of our favorite things to do. It is our pleasure to bring your aspirations to fruition.
Before you do anything with your idea, let's put this thing on paper. Since 1896, Johantgen Jewelers has been providing expert advice and recommendations on all things, jewelry. So, when you are looking to create something personal, special and unique, there is no better place than in our loving jewelry store. For this reason, we would love to set up a design consultation with you. Give us a call or send us an email and let's talk. Tell us about what you are thinking and how you imagine your piece to be. Our professionals here will listen to your thoughts and help you get started in the lovely process of custom jewelry design.
Trusting Your Ideal Jewelry Design
As a family-owned and operated business, we thrive off of relationships built over many, many years. Whether this is your first time coming through our doors, or you have been coming to our store for years, we want to build a relationship with you that lasts. So, when you have an idea and want to create something special, you better believe that our professionals are going to commit. Every piece and design we craft together is carefully thought out to ensure that you will get the perfect piece you had been dreaming about. Whether it's a custom engagement ring or beautiful necklace, we will ensure that every aspect of the piece you imagined will come to life. Our goal is always to provide our customers with the best quality workmanship along with the very best customer care, from start to finish.
Don't waste another second sitting on your dreams. Make your dreams a reality that can be cherished for generations. Design a piece of jewelry that means something special to you. For more information about our custom jewelry design services or to book a design consultation today, give Johantgen Jewelers a call today (763) 537-7233 or send us an email at johantgen@live.com.