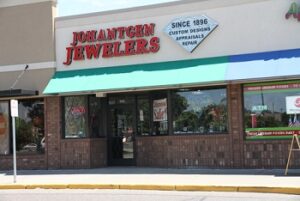 It has been a difficult time for many individuals and small businesses during the COVID 19 pandemic. Stress has been high as families and businesses navigate a new world of working from home, online education, and pick-up services on many of our daily items like groceries and prescriptions. Small businesses have had to adapt to the new world as well and we are happy to say that Johantgen Jewelers has come out of the pandemic stronger than ever. We believe these are just some of the reasons our clients have continued to shop with us, rather than ordering online:
1. Family-owned business: We have been serving the community of Minneapolis since 1896. We offer top notch customer service and the pieces that we sell are unique and high quality. We build relationships with our customers and find that many of them come back any time that they are looking for a new piece of jewelry.
2. Seeing a piece of jewelry that you are investing in is very important. We believe that our clients benefit from being able to see a ring, bracelet or watch in person, rather than looking at a picture online. Our jewelry store is conveniently located on Willow Bend in Crystal, MN so our clients can make an appointment or stop by at their convenience.
3. We also have an on-site repair facility so if you have a piece that needs to be repaired, our staff can complete that work as well. We find that being able to offer repairs in addition to selling new pieces increases our overall value to our customers.
4. Our jewelry store has a wide selection of rings, watches, bracelets, diamonds and other pieces of jewelry. Some clients do not know exactly what they want until they see it, so this variety can help clients determine exactly what they are looking for.
5. Our reputation also speaks for itself. We have built a strong reputation in the area for high quality jewelry at an affordable price. Jewelry is a huge investment and choosing a piece is very personal. We understand that this can take some time and several trips to our store. Our staff is patient, informative, respectful and happy to help you in any possible way.
Minneapolis Jewelry Store
If you are looking for a piece of jewelry to show someone your love, or are looking for a piece for yourself, come by our store, or call us at 763-537-7233.