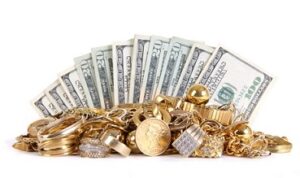 Need some extra cash in your pocket? Have a special occasion coming up and want to buy them something outside of the typical budget? You may be sitting on a lot of money in your own home, and we don't mean buried treasure in your backyard. The treasure is in your jewelry box or a closed drawer where all your unwanted jewelry rests. Now is the perfect time to sell these unwanted items for top dollar! Gold prices are soaring high, and it's time to make a profit. For the best prices, bring your gold and jewelry to Johantgen Jewelers in Crystal, MN.
Making The Decision To Sell
A common reason to hold on to old jewelry is that there is sentimental value or history behind it. Maybe you have a ring that has been passed down, or a necklace was given to you by your best friend. Make sure that the jewelry you are selling is worth parting with. We want to pay you for your gold jewelry, but we know that this can still be hard even when you are set to sell. Don't be afraid to take a moment after receiving an offer to assure yourself that you are making the right decision.
Understand What You Are Offering
Do your research and understand what your unwanted jewelry is worth. Check the condition of your jewelry. If prongs are missing, chips in diamonds, or scratches in the gemstones, you may lose some value. Your gold may seem like it is 100% pure gold, but its purity is defined in karats. A karat is 1/24 of pure gold by weight, so a piece of jewelry that is 24 karat gold is pure gold. Note that jewelry is rarely pure gold. A lot of jewelry is 10, 14 or 18-karat gold which means the other portions are other alloys. Knowing what you have will make the offer a lot easier to understand.
Seek Out Experienced Gold Appraisers
When you are ready to get your jewelry appraised, seek out experienced gold appraisers who will be ready to sit down with you and examine your fine jewelry. They should evaluate your piece and give you an appraisal on the spot. There should be no obligation to sell.
For more information about selling your fine jewelry, or to speak with a professional about your jewelry's worth, call the professionals with over 100 years of appraising gold and fine jewelry. Contact Johantgen Jewelers for all your jewelry needs at (763) 537-7233. No appointment necessary.