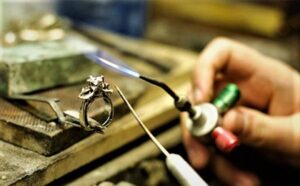 When you're dealing with a damaged piece of jewelry, you may be tempted to take your own tools to the metal to fix it yourself. However, this can lead to more damage that renders the piece unwearable. You could also lower the value of the piece, which is particularly concerning if it's an expensive piece of fine jewelry that you want to maintain. Instead of taking the risk, you can always trust the professional jewelry technicians at Johantgen Jewelers to handle your fine jewelry repair. We work on a wide range of pieces from many different brands. You can bring any piece of jewelry to us for repair, even if you didn't purchase it from our shop.
In House Watch Repair
You can rely on us to repair or replace the band, battery, buckle, crown, crystal, lug, stem, or face of the watch. We'll also clean and polish every part so your watch will look brand new. In addition to these services, we can handle quite a few other watch repair services. Wondering if we can take care of a particular need for your timepiece? Just ask!
On-site Custom Jewelry Repairs
As one of the most experienced local providers of custom jewelry repair, we get many requests for this service. All jewelry repair work is done on the premises, and your jewelry remains in the hands of technicians you can trust to properly care for your piece. We work on bands, bracelets, brooches, buckles, cufflinks, earrings, necklaces, pendants, pins, and rings, as well as fine watches. Our technicians are well-equipped to repair both modern and antique jewelry pieces, including those made with silver, gold, and platinum, as well as those that feature all types of precious stones. We can restore and repair antique and estate pieces, set gems, tighten, and repair chains, replace clasps, replace and tighten stones, repair and resize rings, and handle many other tasks related to high-end jewelry.
Schedule Your Jewelry Repair In Minneapolis
Johantgen Jewelers has established themselves as a leading provider of jewelry repair in Minnesota and is recognized as a premier repair facility in the Midwest. Whether your repair is simple or complex, our expert craftsmen have the experience and ability to bring your piece back to life. Our unmatched experience is joined with our in-house repair facility that features the latest technology, equipment, and tools to ensure that we can take care of your jewelry pieces in our store, without the need to ship them to an offsite facility. If you have any questions, please give us a call at (763) 537-7233.