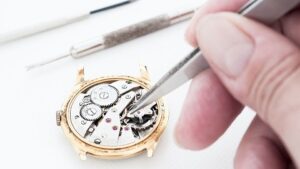 Do you have a beloved piece of jewelry that you have been holding onto that needs repair? Maybe it has sentimental value, maybe it belonged to a loved one or was a gift from a loved one and you just have not known where to take it for repair. Johantgen Jewelers sells beautiful pieces of jewelry, and we also complete repairs on rings, necklaces, earrings, watches, and other pieces of jewelry. We have an onsite jewelry repair facility in Crystal, MN, so you do not have to wait weeks (or longer) to get your repaired piece back in your hands. We complete high quality work, offer competitive pricing and give our clients the best possible customer service. This is why we have become known as a leader in jewelry repair in all of the Midwest.
Onsite Watch And Jewelry Repair
Our jewelry repair services include extensive repairs and very simple ones. We understand how important your jewelry is to you and we always treat it with great care. That means from the moment you drop it off until the moment we give it back, you can rest assured that it will be safe. We can complete jewelry cleaning, polishing, engraving and complete restoration services. We have all necessary repair equipment, and latest repair technology on site as well as experienced jewelers on staff who will be able to bring your piece of jewelry back to life!
The repair specialists at Johantgen Jewelers can also repair all types of watches as well – from antiques to new timepieces. We have experience with Rolex, Omega, Movado, Citizen, Seiko, Patek and many more. We can take a look at your watch and determine exactly what is going on. It may only require a bit of routine maintenance. In fact, many of our customers actually bring their watches in periodically for us to look at. We find that this can help prevent any major problems with these timepieces.
Local Jewelry Repair Services
Johantgen Jewelers is locally owned and has been in business in Crystal, MInnesota for more than 100 years. We love our community and enjoy getting to know our clients and neighbors. Our staff is passionate about jewelry and about providing strong customer service to every single client that walks in the door. So, if you have a piece of jewelry or watch that you need repaired, stop by our store at 115 Willow Bend and let us take a look!