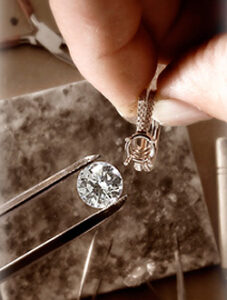 If you have been holding on to a piece of jewelry that is damaged or needs repair, the staff at Johantgen Jewelers can help. We offer local jewelry repair services for clients in Minneapolis area. We have an in-house jewelry repair facility that has the latest state of the art technology and tools to allow us to get your precious piece of jewelry back into wearable condition.
Family Owned Jewelry Store
We find that once a piece of jewelry is damaged, many of our customers hold onto it for an extended period of time before taking it in for repair. Our local facility allows us to repair your piece right on site, so that it does not have to be shipped out and returned. This allows us to provide great care to each piece of jewelry we repair. We take this part of our job very seriously and appreciate being trusted with something that is so precious to you. We do not take this for granted and will work hard to get your piece back to you in even better condition than before it was damaged.
Our staff can complete a wide variety of on-site jewelry repair services including polishing, engraving, full restoration, cleaning, and replacing parts for added safety and security of diamonds or gemstones. We will talk to you up front about what you are looking for and how you plan to wear the item once it is repaired. We are always upfront about our approach, our plan and the estimated cost so that you can make the best possible decision about the repair. Ultimately, the decision is yours about how you want to proceed. We can repair rings, watches, bracelets and diamond pieces.
Local Jewelry Store That Does Jewelry Repair
We have built a reputation as a leading jewelry repair facility in the entire Midwest area by providing the highest quality repairs, responsive customer service, affordable pricing and the ability to turn around repair jobs quickly, without the need to ship them off site. This means that your piece of jewelry will be in only our hands when it is not in your possession. We understand how special this piece is to you and we honor that and appreciate the trust you give us to repair it. If you have been holding on to a piece of jewelry that is in need of repair, now is a great time to get it to us. Our facility is located in Crystal, MN. Email us at johantgen@live.com or call 763-537-7233 for more information.