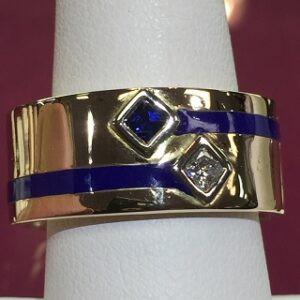 A wedding is one of the most special times in a couples' life. It is the beginning of a lifelong commitment of love, honor and respect. Wedding rings are our culture's symbol of this everlasting love. Johantgen Jewelers of Crystal, Minnesota, understands how special this moment is to you. Our staff helps couples find the perfect engagement ring and/or wedding bands to show your love. Locally owned, with more than one hundred years of experience serving our clients. We specialize in helping our clients find that perfect, unique piece of jewelry that will last a lifetime. We believe in offering the highest quality pieces of jewelry that you can see, touch and ask questions about as you make your decision about this investment.
Choosing The Perfect Engagement Ring And Wedding Bands
Our engagement rings and wedding bands come in many different styles and price points but one thing that is never compromised is our commitment to quality. Each piece of jewelry in our store is selected with great care. We have contemporary pieces, traditional designs and if you prefer, we can customize a piece that will be uniquely yours. Our staff enjoys getting to know clients who are looking to make this investment so that we can help guide you through the process and ensure that when you make your decision, it is the right one for you.
When you enter our showroom, you will be greeted by a friendly and experienced staff member. If you want to look around on your own, we will give you your space. When you are ready to try on a few designs or ask questions, we will focus on making the experience a positive one for you. We realize that you may not be ready to make a decision that same day, so you will not find our staff to be pushy or impatient. We realize that each couple has a budget that they must adhere to so we will help you find the right rings for the right price.
Local Jewelry Store In Crystal Minnesota
You have a lot of choices when it comes to purchasing your engagement and wedding bands. We hope that you will consider stopping by our showroom before you make your final decision. We are located at 115 Willow Bend, inside the Crystal Shopping Center. Give us a call at 763-537-3965 or email us at [email protected] for more information.