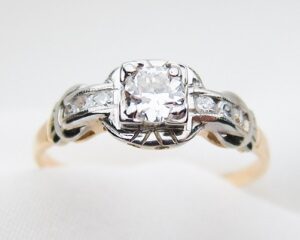 Commitment is an important component of our relationship with others. Whether it is commitment to your spouse or significant other, your children, a family member, or a friend, knowing that you are committed to the relationship and your role in it speaks volumes to the ones that you love. One way that you can show this commitment to a loved one is by giving them a gift that will be with them always. A special piece of jewelry is the perfect way to show your love and your commitment. This may be to mark a special occasion like an engagement, the birth of a child, an anniversary, retirement, or just because.
Family-Owned Jewelry Store In Minneapolis Area
Johantgen Jewelers offers a wide selection of jewelry in our Crystal, Minnesota showroom. But our work does not stop there. We enjoy helping our clients find the perfect piece. We are a family owned and operated jewelry store that has been in business for well over 100 years. We have seen the jewelry industry grow and change and we have grown along with it. We believe that when you are looking for a special piece of jewelry to show your commitment to someone that you love, oftentimes, seeing options and working with a real person can really make a difference. Sure, we realize that you can jump online and have many options. But we think that you can really benefit from seeing a piece of jewelry, holding it, trying it on and envisioning how it will look on the person you give it to. If you do not see the perfect piece in our showroom, we can also design a custom item based on your vision and description.
High Quality Jewelry Options In Minneapolis
When you visit our showroom, you will find engagement rings, other diamond jewelry including diamond pendants, diamond tennis bracelets, watches, wedding bands, anniversary rings, necklaces, gemstone rings and bracelets, antique jewelry, brooches and pins. We can also complete on-site jewelry repairs and custom jewelry design. All of our work is done in-house so you do not have to worry about long wait times and shipping issues. Our staff loves what we do and loves getting to know our customers. Our commitment is to you – we provide you with exceptional service, affordable prices and high-quality jewelry that will last a lifetime. For more information, give us a call at 763-537-7233 or stop by our showroom at 115 Willow Bend.