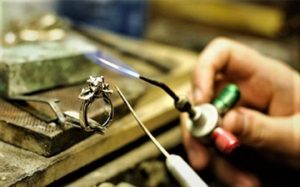 When it comes to jewelry stores, most people prefer to find one particular jewelry store that they trust, and they stick with them for the long haul. Minneapolis, MN is home to many great jewelry stores, so it is difficult to separate yourself from the competition. Fortunately for Johantgen Jewelers, our team of jewelry professionals is able to separate ourselves thanks to our level of experience as well as being able to offer diverse jewelry services to our customers.
Before we dive into the types of services our jewelry professionals provide, it is very important to lay the foundation for our clients. Johantgen Jewelers is a family-owned jewelry store that has been operating since 1896. For more than a century, people around the Minneapolis, MN area have been putting their trust in our staff for all of their jewelry needs. This level of experience is unheard of these days and the great thing about it is that we hope to continue this business for another 100 years! During this time, we've focused on providing our clients with high-quality jewelry and excellent service every time they enter our jewelry store.
Jewelry Services
Since our jewelry professionals live and breathe jewelry, it is hard for us to decide where to start when it comes to our exciting and diverse jewelry services. The good thing is that no matter what you need, we've got you covered every step of the way. Some of the diverse jewelry services that we regularly offer our customers include:
● Custom Jewelry Design – Come to our jewelry store with an open mind and bold imagination. From there, we can create custom jewelry for you or a loved one that will be cherished forever.
● Engagement Rings – Once you have found the person that you'd like to spend the rest of your life with, let us help you decide on the right engagement ring for this special person. We have a large diamond selection that is great for all price ranges.
● Jewelry Repair – Whether you need a ring, earrings, pendant or watch repaired, our experienced jewelry professionals will get your piece of jewelry back to full strength quickly.
● Jewelry Appraisals – There may be times where you decide it is time to part ways with a particular piece of jewelry. Our staff offers competitive and honest appraisals that come with no hassle so that you can determine whether or not now is the time to part ways with your jewelry.
At Johantgen Jewelers, we have a true passion for jewelry. To learn more about the diverse jewelry services that our jewelry professionals offer here in Minneapolis, MN, reach out to our team today at (763) 537-7233 or email johantgen@live.com.