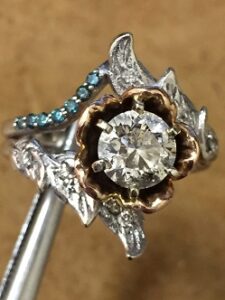 More and more items that we purchase are available online these days. In fact, with the pandemic over the last two years, this has really worked to our advantage. Many things from groceries, toiletries, clothing, shoes, office supplies can be delivered directly to your doorstep in just a matter of 1-2 days. This is incredibly convenient and can save you time. However, online shopping is not ideal for everything. For example, jewelry is one of those things that really needs to be seen before it is purchased. Johantgen Jewelers understands and offers high quality custom jewelry design, diamond jewelry, engagement rings, as well as jewelry/watch repair and jewelry appraisal at our Crystal, MN location.
Twin Cities Jewelry Store Focusing On Customer Service
When you make a decision to invest in a new piece of jewelry, it is something that should be exactly what you are looking for and last for many years. When you purchase from a local jeweler like Johantgen Jewelers, you can feel confident about your purchase. You can ask questions about the pieces you see, try them on, compare them to others or even design a custom piece that perfectly matches your expectations. There is simply no match for this process when you purchase jewelry online. Our staff will get to know you, ask you questions about exactly what you are looking for, your budget and whether this is a gift or something for yourself. This process can help us direct you to pieces that might meet your needs and fulfill your dreams. We take pride in developing a real relationship with our clients that will last for many years to come.
Johantgen Jewelers is a family owned and operated business that has been serving clients in Minnesota since 1896. We only sell the highest quality jewelry and have built a strong reputation in the area for being trusted for purchasing new pieces as well as for jewelry repairs and appraisals. We specialize in diamond pieces and have helped many customers choose (or design) the perfect engagement piece, anniversary piece for a loved one. We also have a wide selection of watches (including pocket watches), broaches, gemstone pieces, necklaces and bracelets.
Family-Owned Jewelry Store, MN
If you are in the beginning stage of looking for a new piece of jewelry for yourself or a loved one, stop by our shop on Willow Bend and we will be happy to show you what we have and help you find the right piece for your needs. Or feel free to give us a call at 763-537-7233.