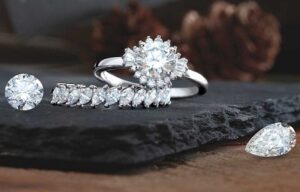 Shopping online has exploded over the last 10-15 years. We can order an item and have it on our doorstep in a matter of hours in some cases. Many of us have gotten accustomed to ordering groceries online as well as clothing, shoes, household supplies and toiletries. When you know exactly what you are ordering and have assurance that you will get what you pay for, there is simply no need to go to a store to buy the same product. Not to mention that you can compare prices online and find a deal that may save you money. However, online shopping is not as easy for certain items that are one of a kind and that are a significant financial investment. Choosing diamond jewelry is one of those items.
Minnesota Family-Owned Jewelry Store
Making a diamond jewelry purchase online is possible and, in some cases, may work. But, in many other cases, you may not be able to truly see the quality of the diamond piece and may not be able to verify its authenticity. Basically, you are taking a pretty significant risk. As a local Minnesota jeweler, our staff hopes that you will come into our Crystal, MN showroom and choose a diamond piece that is exactly what you want.
We believe that choosing a piece of diamond jewelry can be a better experience when it is done in person. Our family-owned jewelry store has a wide variety of diamond pieces including engagement rings, wedding bands, anniversary pieces, diamond necklaces, bracelets and earrings. We have a wide selection in our store for you to see with your own eyes, try on (if you want) and ask questions about. From modern pieces to classic ones, we have many different styles, shapes and price points.
Diamond Jewelry Specialists in MN
We stand behind each and every piece of jewelry we sell and can attest to the quality of every single detail. A piece of diamond jewelry should last a lifetime, and we can help you find that perfect piece. Choosing a piece of diamond jewelry is a very personal experience and a significant financial investment. Partner with our staff at Johantgen Jewelers to find the exact piece you are looking for. You will not have to guess; you will not have to worry – you will be confident in your purchase. For more information, stop by our showroom on 115 Willow Bend or give us a call at 763-537-7233.