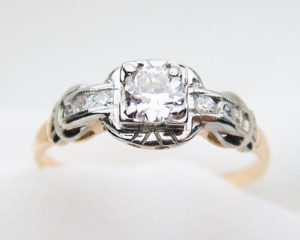 Searching for the perfect engagement ring for your future spouse? Purchasing an engagement ring is a memorable and exciting moment, but it also comes with plenty of stress. If you are looking for the perfect place in Minneapolis, MN to find an affordable engagement ring, look no further than Johantgen Jewelers.
No matter the budget, our experienced jewelers have an engagement ring that you can be proud of. Our jewelry team understands that we all have different budgets when it comes to the purchase of an engagement ring. For that reason, we are proud to offer engagement rings for any budget. The engagement ring purchasing process doesn't have to be a stressful one. Just let our staff know what your budget is when you come visit our jewelry store and we will provide you with plenty of options to choose from.
Knowledgeable Jewelers
When we tell our clients that we have been in the jewelry business since 1896, it is hard for even our staff to believe. One of the biggest factors to our more than a century of success is because of our knowledgeable jewelers. We know all of the details around our engagement ring selection including cut, clarity and color. We love to share all of the fine details about our engagement rings with our clients so that they are proud and comfortable with this purchase.
Engagement Ring Repairs
There may be a time in the future where the engagement ring you invest in needs a repair. Why take this jewelry to another jewelry store when you can bring it right to our jewelry store. A partnership with our staff doesn't end after you purchase your engagement ring. Instead, we strive to be your chosen jewelry store for all of your jewelry needs, including engagement ring repairs.
The last thing that you should do when searching for the engagement ring for your future spouse is rush through the process. If you are in the Minneapolis, MN area and are looking for an affordable engagement ring to invest in, you will not be disappointed by the unbelievable selection that Johantgen Jewelers has to offer. Our knowledgeable jewelers will take as much time as you need until you are fully comfortable with your decision. To schedule time to meet with our jewelry experts so that you can find the engagement ring of your dreams at an affordable price, give us a call today at (763) 537-7233 or email johantgen@live.com.