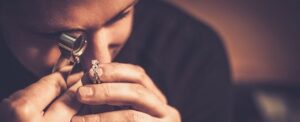 If you own or have been given a piece of jewelry, it is important to understand its value. That value can be sentimental, but it can also be its monetary value. In addition to selling a wide variety of fine jewelry to our clients, Johantgen Jewelers also has appraisal experts on staff that can give you an exact value of a piece that you own. We can appraise watches, antique jewelry and newer pieces in gold, platinum and with diamonds and other gemstones. We provide this service onsite in our convenient Crystal, MN, location and offer official documentation so that you have a written record of the appraisal. If you want to insure a piece of jewelry, an appraisal is the best way to move forward.
The Jewelry Appraisal Process
Johantgen Jewelers will complete a thorough and comprehensive appraisal of your piece of jewelry, paying close attention to the following:
● The current retail value of pieces similar to yours
● Condition, weight, and measurement of the piece
● Details about the quality of the diamond, the metal used (gold or platinum) including serial numbers, stamps, identifying marks, etc.
● The prongs and the safety features including what type of metal was used to make them
● When we appraise stones like diamonds or other gemstones, we also evaluate the 4Cs (cut, color, clarity and carat weight)
Once we have completed the appraisal process, our staff will provide you with a detailed written report, that includes pictures, diagrams, and a clear statement with a value for the watch or piece of jewelry for you to keep for your records. Many of our clients obtain these appraisals for insurance purposes, so we use templates for our reports that we have found are useful to insurance companies. You may also want to have a piece of jewelry appraised if you are considering selling it or for tax purposes. We are always happy to answer any questions that you have about the appraisal that we provide.
Fast, Honest Jewelry Appraisal In Minnesota
Very often, we can complete a jewelry or watch appraisal the very same day that you bring your piece into our store. If you want to be sure, you can always give us a call ahead of time and make an appointment. Our appraisal services are known to be accurate, honest and fast and easy for our customers. For more information, stop by Johantgen Jewelers at 115 Willow Bend or give us a call directly at 763-537-7233.