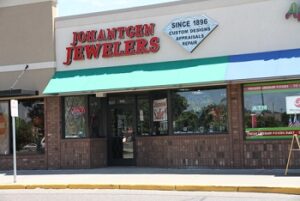 The holidays are literally just around the corner and the race to find the perfect gift for your loved ones is on! If you are considering a new piece of jewelry for someone on your list, Johantgen Jewelers can help you choose the perfect piece. Here is our 2022 Holiday shopping guide:
1. Watches: A watch is a great gift for anyone in your life, regardless of age or gender. Johantgen Jewelers specializes in watches. We sell many in our store and we can also repair and restore an old watch if you have an antique piece that you want to bring back to life.
2. Custom piece of jewelry: Did you know that our staff can help you design a custom piece of jewelry for a one-of-a-kind gift for your loved one? That's right. You can design the perfect piece to meet your specific vision and your budget! We can design engagement rings, earrings, necklaces, bracelets or even restore an old piece to give it a new and modern look. This process can be exciting and fun.
3. Diamond jewelry: The holidays are a very popular time for couples to get engaged and/or get married. If you need to purchase an engagement ring or wedding bands, we have a wide selection in our store. We can help you make a decision about style, metal, and price so that you leave happy with your decision. We also have a beautiful selection of diamond earrings, bracelets, and necklaces.
4. Gemstone jewelry: Maybe you are looking for a piece of jewelry with a specific gemstone, or a birthstone. We also have a selection of gemstone earrings, rings, bracelets and pendants.
5. Jewelry repair: Maybe you know about a piece of jewelry that your loved one is holding onto that needs repair. Our staff can also complete on-site jewelry and watch repairs as well.
Local Jewelry Store In Crystal
Johantgen Jewelers is a family-owned business that has been serving the community of Crystal, Minnesota, since 1896. During that time, we have built relationships with our clients and are fortunate to have many repeat customers who use our staff for all of their jewelry needs. We enjoy building these relationships and helping our clients find the piece of jewelry they are looking for. Our repair services are unique in that they are all completed on-site so the turnaround time is quick, and you do not have to worry about shipping delays or lost items.
For more information about our holiday gift ideas, give us a call at 763-537-7233 or stop by our convenient location at 115 Willow Bend.