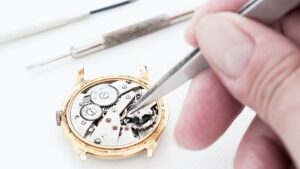 A watch is one of those items that you do not want to have to replace every few years. Whether you received your timepiece as a gift or made an investment in a watch that fit your style and taste, when you find that it is not working as it should, Johantgen Jewelers can help. We have a dedicated watchmaker on our staff anytime our local jewelry store is open who can help our customers with watch repairs and questions about functionality. We can repair all types of watches, new or antique, from a wide range of popular brands including:
● Rolex
● Omega
● Tag Heuer
● Citizen
● Seiko
● Movado
● Ramon Weil
● Patek
Onsite Watch Repair In Crystal Minnesota
As you can tell from that list of watch brands, we have a unique passion for repairing high-quality Swiss watches. We can repair a watch that is no longer keeping time, or provide routine maintenance so that you can extend the life of your timepiece. Our team has the perfect array of tools and many years of experience, so we can offer onsite watch maintenance and repair for all of our local customers. Many jewelry stores have to send their repairs to another location and that takes more time and can be stressful to worry about your precious piece getting lost in the mail. No worries when you work with us! We can complete the repairs quickly, accurately and have your watch back to you ASAP. Sometimes we can even make the repair while you wait.
Johantgen Jewelers has been in the jewelry business for more than 100 years. We are a family-owned local business and have always focused on providing the highest quality products and service to our customers. That means every single piece of jewelry we sell is chosen with care and inspected for quality. We started doing on-site watch and jewelry repair many years ago and realized that there are just not many local jewelry stores that can provide this service. We take time to understand what you are looking for and what your needs are so that we can answer your questions and help you leave our Crystal, MN store feeling happy and confident about your purchase.
Local Jewelry Store That Does In House Watch Repair
If you have a watch that you have been meaning to take for repair, now is a great time. Call Johantgen Jewelers at 763-537-7233, email us at johantgen@live.com or stop by our store at 115 Willow Bend.