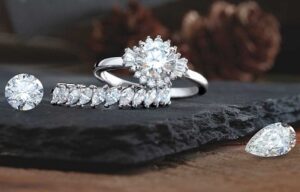 When you decide to buy a piece of jewelry, one thing that you pay special attention to is the quality. You want the quality of the piece of jewelry to be good – after all, it is a true investment. Johantgen Jewelers is a family owned and operated jewelry store in Crystal, MN, that has been serving the Minnesota community for more than 100 years. We take pride in ensuring that every single piece of jewelry in our showroom is the highest quality and value. This is our commitment to our customers. We sell diamond jewelry, engagement rings, watches, gemstone rings, necklaces, bracelets. We can also design a custom piece that is tailored to your exact specifications.
Benefits To Buying Jewelry Locally
When you think about it, in person shopping has changed a lot over the last 5-10 years. Many people order most of their purchases online, from groceries to clothing, gifts and even home decor rather than purchasing them in store. As a result, online stores have become more and more popular, leaving some storefronts struggling to stay afloat. Fortunately, for us, Johantgen Jewelers has stayed busy during this time. We believe that it is always best to buy a piece of jewelry in person so that you can see it, ask questions, try it on and be sure that it is exactly what you want. Ordering jewelry online can be risky, and it is impossible to know anything about the quality of the piece you buy. If you are unhappy with your online purchase, returning a piece of jewelry can also be extremely problematic. When you work with us, you get high quality jewelry, friendly and professional customer service and affordable pricing. Many of our customers come back each and every time they need a new piece of jewelry.
Local Minnesota Jewelry Store
In addition to selling high quality pieces of jewelry in our local showroom, we also offer onsite jewelry repair services. We do all jewelry repair in our shop, so we do not have to take extra time to ship pieces to and from an offsite location. This is just another reason why we believe we have been able to compete with online and national chain jewelers. So, when you are looking for a piece of high-quality jewelry for yourself or for a loved one, stop by our showroom at 115 Willow Bend to see what we have in stock and meet our team. You can also call us at 763-537-7233 for more information.