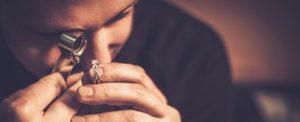 Do you have some jewelry that you are interested in parting ways with, but only at the right price? Well, if you are in the Minneapolis, MN area, our experienced team at Johantgen Jewelers offers trusted jewelry appraisals that we're confident you'll be happy with. Rather than letting the jewelry sit around collecting dust, there's no better time than now to get your jewelry appraised by our experts.
It may be that you inherited this jewelry, or it has been a while since it's been evaluated. Determining the current value of your jewelry is what our family owned and operated jewelry store specializes in. By setting up an appointment with our staff, we'll take as much time as necessary to ensure that your jewelry is thoroughly evaluated and appraised. If you have any documentation of the jewelry, be sure to bring that along with you to the appointment. Through our appraisal, we'll take into account current competitive prices, brand names, serial numbers, and manufacturer's marks. Once we have fully evaluated your jewelry, you will receive a detailed report that includes pictures, diagrams and an appraisal statement detailing what your jewelry is worth.
No Hassle Appraisals
We understand that your jewelry means so much to you. If you are not satisfied with the jewelry appraisal that you receive, there is no obligation for you to move forward with the sale of your jewelry. We are confident that you'll be pleased with the evaluation. Additionally, with over 100 years of experience, you can count on our staff to provide you with a competitive and strong appraisal.
Jewelry Appraisals Since 1896
When we tell our clients that we have been providing jewelry appraisals dating all the way back to 1896, their jaws often drop. There are not many jewelry stores that can say they have been around for over a century. We credit our success to our strong focus on our customers. We're here to build a lifelong relationship with our clients. Anytime that you need to buy or sell jewelry, we want you to choose our experienced jewelers. As a family owned business, we treat our clients just like they are part of our family as well.
Are you ready to part ways with the jewelry that you've been storing for years? If you have some jewelry that you are interested in selling but have no idea what it is worth, Johantgen Jewelers is here to offer trusted jewelry appraisals to the Minneapolis, MN community. To schedule a jewelry appraisal in the near future, contact us today by calling (763) 537-7233 or shooting us an email at [email protected].