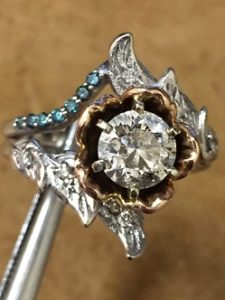 If you have an idea in mind for the perfect piece of jewelry for a loved one, you may want to consider a custom piece. Johantgen Jewelers works hard to turn your vision into a reality and will use your ideas and inspiration to design the perfectly unique custom piece. It will be a one of a kind piece that captures your feelings. It starts with you and one of our designers chatting and schetching out a design. We can design all types of custom jewelry depending on your needs and your preferences including:
● Rings: Engagement rings, anniversary rings or a ring to celebrate a special moment in your life. We use gold, platinum or silver and have access to a wide variety of stones to make the ring the perfect representation of your affection.
● Earrings: Earrings can come in all shapes and sizes and you can really use a lot of creativity when coming up with an earring design. You can surprise a loved one with a bold, subtle, large or small pair of earrings that fit their personality just perfectly.
● Necklaces: A custom designed necklace can be a great statement piece and something that can be loved and treasured as an anniversary gift, birthday gift or "just because". If you have an idea in mind for a custom necklace, our team can help you bring this to life!
● Bracelets: You can create a simple design for a bracelet that can be worn daily or use a stone from a classic, family piece to transform a piece of old jewelry into something brand new, without losing the sentimental value.
Design Consultation For A Custom Piece Of Jewelry
We are a family-owned business based in the Minneapolis, MN area. We have been serving our customers since 1896. We have built our reputation on offering excellent customer service, high quality products and workmanship in the area. We have extensive experience working with our customers to design that perfect piece for their loved one, a piece that will be remembered and cherished for a lifetime. We can start from scratch with our metals and stones or use a piece of your heirloom or outdated jewelry as part of the new piece. We are happy to set up a free design consultation with you so that we can hear exactly what you are thinking and give you an idea of the timeline and the cost of your piece. For more information or to reach us in person, call 763-537-7233 or email johantgen@live.com.