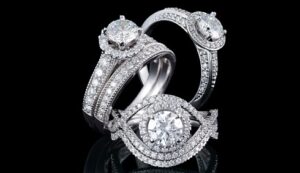 The moment that you propose to your partner is one that you will both remember for the rest of your lives. It is a moment that captures your endless love, passion and commitment. Thinking about what you will say as you pop the question and picking out the perfect engagement ring are the two most important parts of the proposal. While we cannot help you decide on those perfectly heartfelt words, Johantgen Jewelers can help you choose the perfect ring to symbolize your love.
We offer many different choices when it comes to an engagement ring, from modern settings to traditional pieces. Our team believes that the perfect ring for you is out there, and we can help you find it. We can help you pick a style that she will love at a price that you can afford. We hand select every single piece of jewelry in our showroom and this includes engagement rings. We can also design custom options if you have something specific in mind that we do not have.
When you come to our Minneapolis location, you will soon realize that we truly want to be your partner when it comes to choosing your engagement ring. Our staff is knowledgeable, experienced and cares about our customers. We understand that this is a once in a lifetime experience for you – so we work very hard to make it feel special, even as you choose your engagement ring. We enjoy being part of your engagement story.
Engagement Ring Collection
The engagement ring that you choose will be worn for many years to come, so it needs to be high quality, something that you love and that will stand the test of time. This is a big decision, so we also understand that it may take you some time to make your final decision. Our staff will be with you every step of the way, answering each and every question that you have and even willing to give you feedback and advice if you are looking for that.
Johantgen Jewelers has been in business for more than one hundred years. We have helped thousands of customers through the years choose the perfect engagement ring and wedding bands, and we look forward to helping you as well. For more information, stop by our Crystal, MN location on Willow Bend, email us at johantgen@live.com or call us at 763-537-7233.