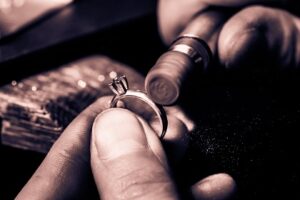 Your jewelry is very special to you and when it needs to be repaired, you need to be able to trust the jewelry store that you take it to. Johantgen Jewelers is family owned and operated and has been in the jewelry business for more than one hundred years. Our staff is experienced, knowledgeable and responsible. We have worked hard to build relationships with local customers so that when you have a question about a piece of jewelry, whether it was purchased at our store or not, you will feel comfortable walking right in and asking us.
On-Site Jewelry Repair Services in Minneapolis, MN
Our staff can repair all types of jewelry on site, so that you do not have to be concerned about a valuable piece lost in the mail. We can complete all types of repairs, from simple cleaning and polishing to personalized engraving to more extensive jewelry restoration. We can complete repairs on engagement rings, watches (including Rolex Omega, Bulova and pocket watches), other diamond jewelry, antique jewelry and anything else that you have. Our staff is experienced with all types of jewelry repair, and we have an on-site repair facility with the latest equipment, tools and technology. This service eliminates the need to ship your jewelry to an off-site location. Many of our competitors cannot offer this on-site option.
Trusted Minneapolis Jeweler Restoration
If you have a piece of jewelry that you want to have looked at by our staff, just stop by our store on Willow Bend Avenue in Crystal, Minnesota, and we will take good care of you. We will carefully look at what you have, ask you some questions about it and listen to exactly what you want done on the piece. We can make suggestions if you are looking to restore the piece and want a more modern look. Our staff really enjoys working with customers to complete repairs and/or jewelry restoration to meet your needs. We will work hard to ensure that our workmanship is high quality and that ultimately you are happy with the finished product.
Jewelry Repair And Restoration
Johantgen Jewelers can also design all types of custom jewelry – so, this design experience and creativity can also be used to restore pieces of jewelry that may have been owned and cherished by loved ones. For more information about our jewelry repair and restoration services, give us a call at 763-537-7233 today!