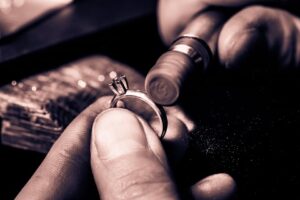 When you drop off a piece of jewelry for a repair, you want to know that it will be taken care of and come back to you in better condition than when you left it. A piece of jewelry has special or sentimental meaning and is truly irreplaceable to you. In addition to selling high quality jewelry and designing custom jewelry, we also specialize in all types of jewelry repair. We are a local jewelry store that has been in business for more than 100 years and have built a strong reputation in the community for being a trusted jewelry repair center in the entire Midwest.
Minnesota Jewelry Repair
Unlike other jewelry stores, we complete jewelry repairs in house. We do not send your precious pieces out of our store to an off-site facility. Instead, we have the technology, equipment and tools to complete all repairs in our in-house repair facility. This allows us to complete the repairs more quickly, avoid extra costs related to shipping and keep your jewelry safe and in our own hands for the entire amount of time we have it. Many of our customers have brought in multiple pieces for repair over the years and continue to be happy with our high-quality repairs, strong and responsive customer service, fast turnaround time, and affordable prices.
We can repair many different types of jewelry including rings, necklaces, bracelets and watches. We work on antique jewelry as well as contemporary pieces. We offer polishing, cleaning, engraving, stone replacement and complete restoration projects. We handle your jewelry with great care and treat it with respect. We realize how important it is to you and when you leave it in our hands, you can be confident that it will be taken care of. We treat your pieces of jewelry just like we would treat our own.
In House Jewelry Repair
If you are interested in learning more about our repair services or if you are wondering if a specific piece of jewelry that you have can be repaired, call us at 763-537-7233 or feel free to stop by our shop at 115 Willow Bend, Crystal MN. You can also send us an email (with pictures if possible) to johantgen@live.com. We can provide you with a quote, a timeline for repair and answer any questions that you might have about the repair process.