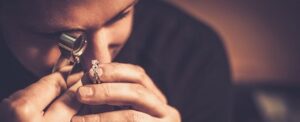 The jewelry that you have collected over the years – whether it was a gift from someone special in your life or an heirloom passed down to you from a family member – has significant sentimental value. It is sometimes easy to forget that these pieces also carry a significant monetary value. Johantgen Jewelers understands that jewelry is both highly valuable from a financial standpoint as well as an emotional one. We offer local jewelry appraisal for clients in the area who want or need to know the monetary value of an item(s).
In-Store Jewelry And Watch Appraisal In Minnesota
Some jewelry stores sendoff pieces of jewelry for appraisals or have an appraiser that comes to their store once or twice a month. This can result in delays, which is not ideal. We complete appraisals in-store so that you can quickly find out the value of your item and get appropriate documentation for it. This way, you do not have to worry that your piece of jewelry will be mishandled, lost in the mail or somehow damaged in the process. An in-house appraisal also gives you the opportunity to ask questions of the person who appraised your jewelry so that you can learn more about the process.
We can appraise all types of jewelry including diamonds, gemstones, watches, heirlooms and brand-new pieces. We can answer questions you may have about the piece and provide you with official documentation of our professional appraisal. This includes a thorough report with pictures and a clear statement of what your jewelry and/or watch is worth. As we develop this report, we take current retail pricing into account when we appraise items as well as the condition of the prongs and metal, cut, carat weight and clarity of the diamond and/or gemstone. Our process is comprehensive, clear and will give you the information that you need to insure your piece of jewelry.
Local Jeweler In Business For More Than 100 Years
Johantgen Jewelers is a local jewelry store that has been in this business for more than one hundred years. We have built a reputation for providing high quality diamonds, jewelry and watches at an excellent value to customers all over the Crystal, Minnesota area. We understand how important a piece of jewelry can be to you or a loved one, so we offer strong customer service, patience and knowledge to help you choose the perfect piece for you. Our in-store appraisals are extremely popular and a great way to protect the pieces that you have.