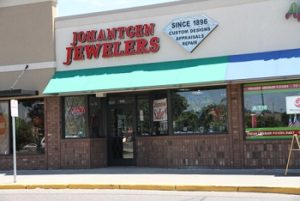 Thanks to more than 100 years of experience, Johantgen Jewelry is proud to offer our Minnesota clients the total jewelry store package. We offer such diverse jewelry services that simply cannot be matched by our competitors. Combining our experience, quality and excellence has enabled us to maintain as a jewelry leader in the area for so long.
Custom Jewelry Options
One of the key aspects of our jewelry store that separates us from the rest is our ability to provide custom jewelry options to our clients. The best part about our custom jewelry options is that we incorporate the ideas of our own clients so that they fall truly in love with their custom design. Our jewelers can create exactly what you need so that you are able to treasure this custom jewelry for decades to come. Whether you're in need of a completely customized piece of jewelry or you are looking to restyle existing jewelry, our jewelry professionals have you covered.
Jewelry Repairs
Do you have some valuable jewelry that needs to be repaired? Have you stopped wearing the jewelry because it is damaged? Well, don't let that jewelry collect any more dust than it already has. Regardless of whether your jewelry repair is simple or complex, bring your damaged jewelry to our jewelry store and let us repair the item right here on site. We have an in-house repair facility that utilizes the latest technology, advanced equipment and complimentary tools to help get your jewelry back to full strength.
Jewelry Appraisals
Looking to part ways with some jewelry that you have at home or have maybe inherited? If so, you can count on our jewelry appraisers to provide a fair and competitive appraisal. We complete appraisals in store, which allows you to get an accurate quote quickly. Once our jewelry appraisal process is complete, we'll provide you with a detailed appraisal report that will include pictures, diagrams and a completed statement detailing what your jewelry or watch is worth.
As you can see, there is a lot that happens inside the doors of Johantgen Jewelers. Whether you are looking to create custom jewelry for yourself or a loved one, you are in need of jewelry repairs or you'd like to get some existing jewelry appraised, Johantgen Jewelers is the place to be. Offering the total jewelry store package in Minnesota, give us a call today at (763) 537-7233 or email johantgen@live.com to learn more about our jewelry store services.