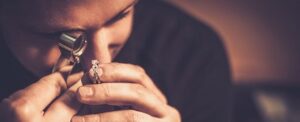 Over the last 100 years, many stores and businesses in the Minnesota area have come and gone. After all, 100 years is a very long time. Johantgen Jewelers was first opened in 1896 and has been providing our community with high quality, reputable and honest jewelry sales, custom design, jewelry repair and restoration ever since. Our staff is family and we decided long ago to treat our customers as family too. When you come to Johantgen Jewelers you will quickly realize what sets us apart from other local jewelry businesses:
1. In-house repair services: Many of our competitors must ship repairs out, but our staff has the experience and skill to make repairs in our own shop. This cuts down on the time spent without your jewelry and the risk of anything happening to it in transit. We can repair all types of jewelry including antiques and watches.
2. High quality workmanship: We are passionate about our work and take it very seriously. We understand how important a piece of jewelry is to you and that it likely has a much deeper meaning to you. We have the equipment and technology to do precise and careful work so that you get exactly what you are looking for.
3. Commitment to customer service: Our customers have been a huge part of our success over the century. We believe that providing excellent customer service is the key to our business' long-term success. We have many customers that have come to us for years and we value those relationships and appreciate the many referrals we receive as well.
4. Fair and competitive pricing: Another thing you can count on when you visit our store is that you will not pay more for an item than you should. We work hard to make sure that our prices are competitive and that our customers get a good value for their money.
5. Custom jewelry design: In addition to having a showroom full of beautiful pieces of jewelry, we also can custom design a piece that captures your dream for a gift for a loved one. Our jewelers love to be creative and will work with you to make sure that we understand your vision for your piece.
High Quality Jewelry Store In Crystal
If you live in Minnesota, you simply cannot go wrong by stopping in Johantgen Jewelers. Even if you are not ready to make a purchase, we can show you some of our favorite pieces so that you have some ideas once you are ready. Give us a call at 763-537-7233 to speak with a member of our experienced team.