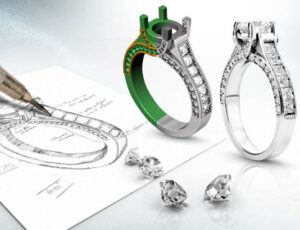 Custom engagement rings are an ideal option if you're looking for something that's uniquely yours. When you create a custom engagement ring, you can tailor every detail of your ring to perfectly suit you, from its design to its materials. This allows you to create the ring of your dreams – a ring that truly tells your unique love story as a couple.
If you want to create a custom engagement ring, one of the most important things to consider is your timeline. Creating a custom ring design takes longer than buying a pre-made engagement ring, since you'll need time to design your ring, approve each step of the design process, and wait for your ring to be made. It can take anywhere from a few weeks to a couple of months to create a custom engagement ring.
Setting Your Budget
Always set your budget before you start the custom design process. Then, be sure to share your maximum budget with your jeweler before you begin collaborating on your ring. There are many things that can change the cost of a custom engagement ring, like your choice of precious metal, your gemstones, and the complexity of your design.
Choosing A Precious Metal
One of the best things about creating a custom engagement ring is being able to choose the exact materials you want. For example, for your precious metal, you can go with a traditional metal, like yellow gold, white gold, or platinum. Or you can pick something a bit more unique, like rose gold, titanium, palladium, or mixed metal design. Before you head into your custom design appointment, consider all your precious metal options, and see if there are any you're particularly drawn to.
Choosing The Center And Side Stones
While white diamonds are the most traditional gemstone for an engagement ring, you have so many gemstone options you can choose from when you go custom. You could opt for a colored diamond, like a blue, pink, or yellow diamond. You could select a precious gemstone, like a blue sapphire, a ruby, or an emerald. You can also choose a semi-precious gemstone, like an aquamarine, an amethyst, or a citrine.
Custom Engagement Rings In Crystal MN
Johantgen Jewelers has been in business for more than one hundred years. We have helped thousands of customers through the years choose the perfect engagement ring and wedding bands, and we look forward to helping you as well. For more information, stop by our Crystal, MN location on Willow Bend, email us at johantgen@live.com or call us at (763) 537-7233.