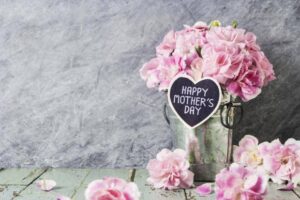 Moms deserve recognition and thanks every day, but Mother's Day is a good excuse to simply spoil them! Mother's Day falls on Sunday, May 8th this year. There is a little time left to prepare! Whether you are shopping for your own mom, picking out the perfect gift for the mother of your children, or making a wish list for yourself, we have Mother's Day gifts she will love— and in every price range, so you have plenty of room leftover for brunch and flowers.
Diamond Pendants
A diamond necklace is a favorite for all, and with the right choice of shape, you'll find the gift your mom won't stop raving about! We recommend giving out solitaire style necklaces a look, and keep in mind if your mom has a favorite diamond cut or metal type for when you choose the shape and setting metal for her necklace.
Tennis Bracelets
Try and nail it this Mother's Day by gifting a diamond tennis bracelet. With versatile styles but a generally classic look, this type of jewelry never goes out of style. They go with everything, too, so whether you're trying to match other bracelets or just adding to your mom's day-to-day jewelry set, this will be a winner. With lots of diamonds on her wrist, your mother will really feel like it's a special day just for her.
Diamond Studs
If your search for the perfect gift is only getting more challenging, and no matter what store you go to, you can't seem to find the right gifts, look at some diamond stud earrings. A jewelry gift like this is a great everyday piece and will match her rings, necklaces, or other jewelry easily. Your mother will love them, and the best part is that our diamond stud earrings prices are listed at prices you can't beat anywhere! No need to find a special offer for Mother's Day gifts when you shop with us.
A Few Style-Specific Gift Suggestions
● Trendy: For the trendy mom, give earrings, a necklace, a bracelet, or a ring in beautiful earthy tones.
● Classic: For the woman who loves style but isn't a fan of too much jewelry, a simple diamond or gemstone pendant is the perfect gift she will wear all year!
● Stylish: Surprise the minimalist mom with color-filled, chic jewelry pieces she will adore.
Treat Mom With Jewelry This Mother's Day
For something truly exceptional and extraordinary, come to Johantgen Jewelers in the Minneapolis area and get the jewelry gifts for Mother's Day you really want. Take the struggle out of finding the perfect gift for mom. If you can dream it, we can create it! Johantgen Jewelers has been a family-owned business in operation for more than a hundred years. We have helped thousands of customers through the years choose the perfect jewelry gifts, and we look forward to helping you as well. For more information, stop by our Crystal, MN location on Willow Bend, email us at johantgen@live.com, or call us at (763) 537-7233.