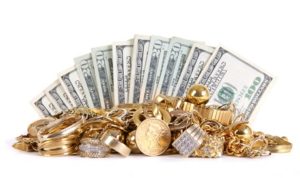 At Johantgen Jewelers, we are grateful for the many relationships we have created over the years in Minneapolis, MN. As a family-owned and operated jeweler since 1896, we pride ourselves in offering the best services for all of our customers. Our goal is always to provide our customers with the best quality workmanship and the best customer care. If you are looking for somewhere to sell your gold, why not choose a local and family owned business like Johantgen Jewelers?
Sell Your Unwanted Jewelry
Just like with any accessory or fashion statement, trends can come and go. While timeless pieces are always the exception, there are many items of jewelry that become dusty and lonely in your jewelry box. Whether your piece of gold jewelry is just outdated or even scratched and broken, we are here to help you get the most value out of your piece. Below is a list of items that we have been able to buy and give cash to the owner:
● Gold Necklaces
● Gold Bracelets
● Gold Rings
● Gold Earrings
● Broken Gold Jewelry Parts
● Gold Charms
● Gold Watches
● Gold Awards
● Gold Chains
● Gold Candle Holders
● Gold School Ring
● Dental Gold
● Gold Coins
Making The Most of Your Gold
If you are familiar with any degree of gold buying, you understand that the price of gold fluctuates from day to day. However, right now in 2020, gold has reached historically high values. Why miss the opportunity to capitalize on such a great market? The time to sell your gold is now. At Johantgen Jewelers, there is never any pressure to sell your gold. We understand that this is a personal choice and we want you to be completely satisfied with your experience. So, come on it and visit us. We will let you know how much your gold is worth and then you can make a decision from there. We are known for offering the fairest value for your gold and want to continue to build our relationship for years to come.
Don't be fooled by pawn shops that will take your jewelry and give you a low price. Building a relationship and offering the best solution for our customers is what is most meaningful to our local business. For more information about gold buying in Minneapolis, MN, give us a call today. Visit Johantgen Jewelers today or contact us about your unwanted gold at (763) 537-7233.