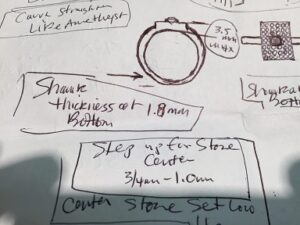 When you are ready to make an investment in a piece of jewelry for yourself or a loved one, you may want something unique that signifies your love and commitment. You may not realize it, but it is easier than you think to design a custom piece of jewelry. Johantgen Jewelers is a local, family-owned jewelry store in Crystal, MN. We specialize in designing and creating special pieces of jewelry that are unique and capture the perfect style, shape and look that you envision. We spend time getting to know our clients so that we can really understand what you are looking for. This allows us to create a piece that meets or even exceeds your expectations. Our staff has extensive experience in custom jewelry design and can give you ideas for what will work well for your budget.
The Custom Jewelry Design Process
We understand that designing a piece of custom jewelry can take a bit of time. After all, it is not something that you do every day. However, it is something that we do on a regular basis, and we truly enjoy the creative aspects of jewelry design and seeing our clients' faces when they get a first glimpse of the piece. A piece of custom jewelry can last a lifetime and become something truly treasured by its owner. Taking the time to think about a design that will best match your loved one's taste – contemporary, classic, modern – and choosing a metal and stone that will stand the test of time is very important. Our staff can guide you through the process from start to finish and provide you with information on metal, stones, pricing, and timeline. There will be no surprises when you work with Johantgen Jewelers.
Local Minnesota Jeweler Designing Custom Jewelry
A custom piece of jewelry allows you to create a piece that is exactly what you want and imagine. When you partner with our staff, you will find that we offer excellent customer service, open communication, and patience. We have been in the jewelry business since 1896 and have built a strong reputation in the area for being trustworthy and conducting each business transaction with integrity. We have many repeat customers and consider a customer referral the highest possible compliment. For more information about our custom jewelry options, give us a call at 763-537-7233 or stop by our local store conveniently located at 115 Willow Bend in Crystal, MN.