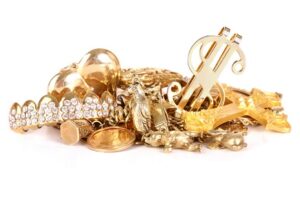 Gold buying is a service that Johantgen Jewelers has offered for more than a century. We have the experience and expertise to give you an honest and fair price on your gold pieces so that you can make a decision about what you are ready to part with. Our gold buying process is simple. We offer you a price based on the market and the actual value of the piece, and we will take the time to explain our appraisal process to you so that you can feel confident with your decision. Our staff is focused on making the gold buying process easy and straightforward and connecting with the customer. Whether you are considering selling an heirloom, a piece that no longer fits your style or your size or a piece that you were gifted many years ago, our staff can help.
Benefits Of Selling Gold Locally
We understand that the process of selling your gold and precious jewelry may be stressful and you may not know where to start. There are several benefits of choosing a local jewelry store when you are ready to sell your gold. First, you can sell your items when you are ready. Johantgen Jewelers does not require appointments so you can walk into our store on Willow Bend and speak with a member of our staff anytime. No need to ship your items anywhere and worry about potential delays and whether they may be lost. We are a local business with a commitment to customer service and a longstanding relationship in our community. This builds trust with our clients. We also offer one of the highest payouts in the entire area and are happy to purchase more than just gold. We also buy platinum, silver and even diamonds. When you work with us, you are also supporting a local small business!
Minnesota Jeweler That Buys Gold
In addition to our gold buying services, Johantgen Jewelers also sells a wide variety of new and antique jewelry and watches. Our inventory changes regularly so we are always featuring brand new pieces and styles. We have a full showroom and are happy to have clients who are selling gold to us to take a look at our inventory in case you are looking to add a piece to your jewelry collection. Call us at 763-537-7233 for more information or stop by our jewelry store at 115 Willow Bend in Crystal, MN today!