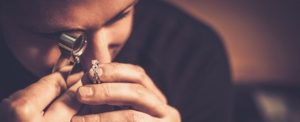 Do you have jewelry collecting dust in your closet or attic simply because you think that the jewelry appraisal process is a big headache? That may be true at some jewelry stores around Minneapolis, but thanks to our experience and knowledge, it is not what you'll experience at Johantgen Jewelers. Our expert jewelers have placed a strong emphasis on making the jewelry appraisal process a simple one for our clients.
In-Store Appraisals
For many jewelry stores, they have to ship off your jewelry to get it appraised. All this does is cause added stress to the owner of the jewelry because they are no longer able to truly keep a good eye on their jewelry. To alleviate this added stress, our team handles the whole appraisal process right here in our jewelry store. This allows for you to be able to schedule an appointment with our staff and find out the value of your jewelry quickly and easily. One of our appraisal experts will thoroughly inspect your piece of jewelry as well as the supporting documentation and warranties that accompanies your items. The inspection also includes the metal prongs and mounting to ensure that the diamond or gemstone is secure. If we're dealing with diamonds, we will take note of the cut, color, clarity and carat weight. Lastly, we will look at the current competitive retail pricing of similar jewelry to then come up with an evaluation. Once the appraisal is completed by our staff, we'll provide you with a detailed report that includes pictures, diagrams and a statement regarding what your jewelry is worth.
No Hassle Appraisals
The great thing about our jewelry appraisals is that there is no hassle or obligation regarding your decision. We understand that this jewelry means a lot to you, and we want you to be 100% confident in your final decision of whether to part ways with the jewelry or not. We will never pressure you into making a decision. We want you to have all of the information that you need to decide on whether now is the right time to sell your jewelry, and if it is, we encourage you to consider working with our expert jewelers. Our more than 100 years of experience in the jewelry industry cannot be matched by our competitors, so rest assured that you are in wonderful hands with our team.
Are you ready to get your jewelry appraised today by an experienced team that helps make the jewelry appraisal process a simple one? If so, look no further than Johantgen Jewelers. If you are in the Minneapolis area, schedule an appraisal appointment today by calling us at (763) 537-7233 or shoot us an email at johantgen@live.com.