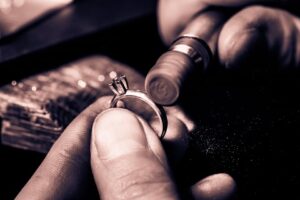 Have you been procrastinating and have one or more pieces of jewelry that need to be repaired so they can be worn and enjoyed? Maybe you need a clasp tightened, or a stone protected and you have put your beloved piece of jewelry into a drawer until you can figure out what to do with it. Johantgen Jewelers performs online, local jewelry repair in Crystal, Minnesota. We opened our doors more than one hundred years ago, offering a wide selection of high quality, beautiful and affordable pieces of jewelry. What some people may not realize is that we also complete jewelry repairs in our facility. Our local jewelry repair means that you do not have to worry about shipping your jewelry to an offsite facility where you may worry about additional damage and a long wait time.
Onsite Jewelry Repair Crystal MN
Our jewelry repair specialists have extensive experience with watch repairs, necklace, bracelet, ring and earring repairs. We have become a leading jewelry repair source in the entire Midwest, using the latest tools, techniques and technology to ensure that your piece is repaired correctly and that the repairs will stand the test of time. We can complete simple or complex repairs and will always be up front with you about the potential cost and timeline for getting your piece of jewelry back in your hands. Our in-house jewelry repair facility is one of a kind and uses the latest technology so that we can complete your repair without having to ship it to an off-site location.
Family Owned Jewelry Company Completing Jewelry Repair
We understand that your jewelry is important to you and may have sentimental value. That is the primary reason that we have developed our onsite jewelry repair. Knowing that you can drop off your piece and we will take great care of it while it is in our possession instills confidence in our services. Knowing that we do not have to ship it out for repairs means that the repair will cost less and take less time. So, rather than letting that jewelry collect dust, bring it into our local jewelry store at 115 Willow Bend for repairs. We communicate clearly and will provide you with a clear and honest estimate of the cost to repair as well as exactly when you can expect our work to be complete. For more information about our local jewelry repair services, call Johantgen Jewelers at 763-537-7233.