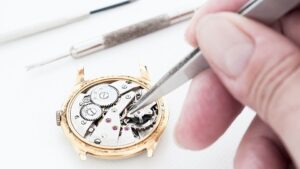 Do you have a piece of jewelry that you have been meaning to get repaired? Maybe you have put the item in a drawer to keep it safe but have not had time to find a local jewelry store that does repairs. Being able to trust someone with a piece of your valuable jewelry is a big deal. The team at Johantgen Jewelers understands this and has become a leading provider in jewelry repair in Minnesota. We do all of our repairs onsite, so you do not have to worry about long wait times or about your item getting lost in the mail. As a small, local business, we pride ourselves on providing you with high quality repairs, strong customer service and competitive pricing.
Jewelry And Watch Repair In Crystal, MN
Repairs on a wide variety of jewelry items are completed in house, including watches, rings, earrings, bracelets and more. We treat every piece of jewelry we repair with great care and respect. We will be up front with you about the timeline for repair as well as the cost.  So that you can ask questions and get the service that you need from our experienced jewelry repair specialists.
Our in-house repair shop has all of the latest tools and technology to repair your piece and get it back to looking its best. We can complete cleaning, polishing, stone repairs, engraving and extensive restoration in our Minneapolis location. We stand behind our work and have experience with all types of jewelry repair. No job is too big or too small! One area of specialty for us is watch repair. We can repair and restore Rolex, Omega, Bulova watches as well as antique and pocket watches.
As a local jewelry store that specializes in jewelry sales and repair, we understand how important community referrals are to our business. We treat our customers like family and work hard to earn the trust of our clients. Over the years, we have found many of our customers come back for new pieces and for repairs. This is one of our favorite things about our business – getting to know our clients.
Family-Owned Jewelry Store That Does In-House Repairs
So, if you have been holding on to a piece of jewelry that needs to be repaired, now is a great time to bring it in. Rather than holding on to something that you cannot enjoy, let our team get it back to wearable condition. Stop by our convenient location at 115 Willow Bend in Crystal, MN or call us at 763-537-7233.