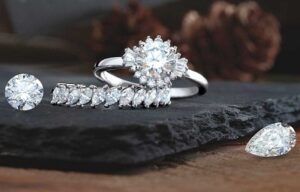 Purchasing an engagement ring is one of the most personal and important investments you will make. When you are thinking about shopping for an engagement ring, you will be thinking about style, price and quality. Johantgen Jewelers is a local jewelry store that can help you make this big decision in a way that you can feel confident in your investment and confident knowing that your future fiancé will love what you have chosen.
Here Are Some Tips For Engagement ing Shopping:
● Your ring's setting can be purchased separate from your diamond. At our Crystal, MN facility, we can design a unique custom piece that is one of a kind, high quality and exactly the look you are after.
● Think ahead about your budget. There is no "right" amount to spend on an engagement ring. The average ring will cost around $6000, but there are plenty of rings that cost more and less than that. Find an amount that you are comfortable spending and then plan to talk to jewelry stores you visit about the type of rings that are in your price range.
● Think about the size and shape of the diamond, it is also important to consider what type of metal you want the ring set in. Popular choices right now are white gold, platinum, yellow gold and rose gold.
● The shape and setting will have a lot of influence on the style of the piece. The team at Johantgen Jewelers can help you focus on the rings that are the style you are looking for. Whether that is modern, classic, vintage or a more unique look, we can guide you to styles that will be the best match.
● Shop local – if you purchase a ring from a local jeweler like Johantgen Jewelers, you have the peace of mind knowing that if you need repair or assistance in the future, help is just a few minutes away. Our team specializes in having a wide selection of engagement rings. We enjoy helping couples find their perfect piece and then are available for on-site jewelry repair and appraisal. We love the long-term relationships we make with our clients!
Local Minneapolis Area Jeweler Specializing In Engagement Rings
Johantgen Jewelers is conveniently located at 115 Willow Bend in Crystal, MN. We are a local jewelry store that has been serving the community since 1896. If you have any questions or want to see our in-store inventory, stop by or call us at 763-537-7233.