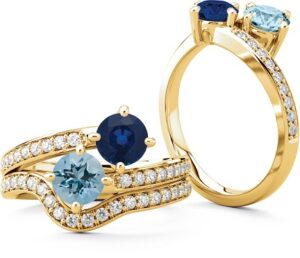 Now, more than ever, people are looking for ways they can easily amp up their looks, and over-the-top accessories are the way to go. From ultra-feminine hair clips and retro-inspired hats to long opera gloves and eye-catching jewelry sets in exaggerated proportions, it's clear that everyone missed getting dressed over the last year or so and is making up for lost time with the most outrageous pieces they can find. From necklaces with rows of pearls to brooches and gold-tone drop earrings with ornate enamel details, jewels that look like they came from your favorite consignment store are all the rage.
Silver Jewelry Items
In case you missed it, silver is the "new" metal for everyday wear. Silver jewelry has the same classic feel as gold but creates more of an edgy, elevated look. If most of your staple jewelry is gold, consider mixing metals and layering on some silver rings, bracelets, or necklaces to make your look more impactful.
Flower power
Florals are obviously in for spring and that extends to your jewelry too. Floral earrings, necklaces and rings are having a resurgence, giving some much needed flower power to all your spring looks. This trend can be worn delicately in a "freshly picked" way or have more of a '70s maximalism-retro look.
Incorporating Bold Colors
Recent runway fashion shows featured models wearing chunky colored chains and charms that were oversized. A good gold or silver piece still has its place, but any time you can lean into color this season, you won't regret it.
Drop Earrings
Drop earrings are a timeless and elegant way to add sparkle to your look. As the red carpet implies, they are especially good for special occasions. Take a hint from Hollywood's A-list and incorporate the look into your wedding guest attire this spring and summer.
Chokers
Thick, shiny choker chains are all the rage this year. Think costume glamour but styled for everyday use.
Get the latest trends in jewelry at Johantgen Jewelers
You're sure to look trendy when you shop for jewelry at Johantgen Jewelers. Let our experts guide you through the process of picking out the perfect piece for you or your loved one. Don't forget, Mother's Day is coming up! Johantgen Jewelers are Minneapolis jewelers that you can count on no matter what it is that you need. To learn more about our quality jewelry services, give us a call today at (763) 537-7233 or email johantgen@live.com.