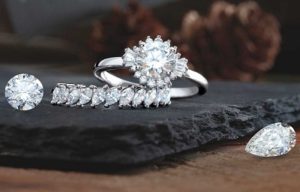 Rings come in all different shapes, sizes, designs and materials. For that reason, it is critical that you find a team of jewelry professionals that can serve as your local ring experts in Minneapolis, MN. Whether you need a ring repaired, are looking for that special ring for a loved one or you'd like to get your inherited ring appraised, there is no better team in the area than Johantgen Jewelers to handle your ring needs.
Engagement Ring Shopping
Many of our clients come to us ready to make one of the biggest purchases in their lifetime. They have decided to make a commitment to their partner, and they are ready to provide their loved one with an engagement ring as a symbol of their love. This commitment means that the engagement ring will be around for the long haul. We are proud to provide the Minneapolis community with a wide range of engagement rings sure to meet any budget. We consider it an honor to be a part of this special moment, and we want the engagement ring purchasing process to be a pleasant one. Our trusted jewelers are here to answer any questions that you may have, and we are confident that you'll be able to find an engagement ring from our selection that is perfect for your partner!
Ring Repairs
Have you recently damaged your ring? We are a leading jewelry repair provider in Minneapolis and can handle all of your ring repair needs with ease. With more than a century of experience, you can bet that we have seen it all when it comes to ring repairs. The best part about our jewelry repair services is that they are completed here in our in-house repair facility. You'll never have to worry about your ring getting shipped off because we will repair it right here in our store.
Ring Appraisals
Our clients are always pleased with the fair and competitive ring appraisal prices that we offer. We complete ring appraisals here in the store and can quickly find out the value of your ring. If you are considering selling some of the rings you have accumulated over the years, we will gladly appraise your rings with a no hassle appraisal. With this appraisal, you'll receive a detailed report that includes pictures, diagrams and the worth of your jewelry. From there, you can decide on whether or not now is the right time for you to part ways with your ring(s).
At Johantgen Jewelers, we have a true passion for jewelry, specifically rings. We are proud to be your local ring experts right here in Minneapolis, MN. If you are looking to purchase a new ring, need your ring repaired or are looking to get your existing ring(s) appraised, stop by our jewelry store today. Contact us at (763) 537-7233 or email johantgen@live.com to schedule an appointment with one of our experienced jewelers.