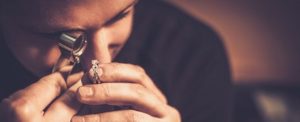 When it comes to your adored jewelry, you want to be confident in the team that handles these items whenever repairs or touch-ups are needed. Additionally, if you are in the market for a new item of jewelry, you want to have access to a team of jewelers that you can trust. That's exactly what you get at Johantgen Jewelers. We are Minneapolis jewelers that you can count on.
Our team of jewelry professionals are able to back up our work with over a century of experience. As a family owned and operated jewelry store since 1896, we have seen the world change in ways that we could never have imagined. One constant, however, has always been the importance of jewelry. It truly tells a story. It can be passed on from generation to generation, and we have seen it happen firsthand.
Quality Jewelry Services
What clients enjoy about Johantgen Jewelers is that they can come to us for anything. If they are looking for an engagement ring or are in need of jewelry repair, we have them covered. If you are interested in selling some of your jewelry and are interested in a jewelry appraisal, let our team handle this for you as well. We take pride in offering our clients quality jewelry services, which include the following:
● Custom Jewelry Design – If you have struggled to find the specific piece of jewelry that you have been looking for, have you considered a custom jewelry design from our expert jewelers?
● Jewelry & Watch Repair – There may be times where your jewelry or watch has seen its better days. If that's the case, leave your damaged jewelry in the hands of experienced jewelry repair specialists who will treat your jewelry just like it is their own.
● Jewelry Appraisals – Have you inherited a piece of jewelry that has just been collecting dust for many years? Have you ever considered selling the jewelry? If so, consider swinging by our jewelry store and getting the jewelry appraised by our staff. We will provide you with fair, honest and trusted feedback regarding the value of your jewelry.
At Johantgen Jewelers, we hope you choose us as your trusted jewelers. We are Minneapolis jewelers that you can count on no matter what it is that you need. To learn more about our quality jewelry services, give us a call today at (763) 537-7233 or email [email protected].