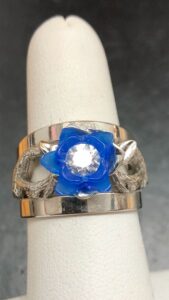 You have a lot of choices when it comes to making your next jewelry purchase. You can choose from thousands of online retailers selling high end jewelry and promising to give you the lowest possible price. Making a large and personal purchase online carries its own risk including slow shipping, poor quality, and even fraud. When it comes to jewelry, we think you are better off buying from a local jeweler. Here are just a few reasons why:
1. Your new piece of jewelry can be cared for years to come: When you work with a local jeweler, you can bring your piece back for cleaning, for engraving or even repair.
2. You can try on multiple options in person and decide what you like best: It is really difficult to determine how a piece of jewelry you see online will look on your hand or on a loved one. When you go to a local jewelry store, you can see the pieces, touch them and try them on so that you are sure that you are making the best decision for your money.
3. You can ask questions in real time and interact with the jeweler: You may think that you want a specific piece but completely change your mind when you walk into a jewelry store. A local jeweler will be able to answer your specific questions and give you their opinion about the longevity of the piece.
4. You are supporting your local economy: When you purchase from a local jewelry store, you are supporting your local economy, which can really make a positive impact in your community.
5. You can develop an ongoing relationship with your jeweler: It is not uncommon for a local jeweler to know many of their customers. Repeat customers and customer referrals are critical to a local business' success.
Local Jewelry Store In Crystal Minnesota
Johantgen Jewelers is a local jewelry store serving the community of Crystal, Minnesota. We have been a staple in the area for more than one hundred years selling a wide variety of jewelry pieces including diamonds, rings, bracelets, watches, custom pieces, and much more. When you work with us, you can be confident that you will receive the highest quality piece with the best possible customer service. We receive new merchandise regularly and are happy to search for something that you are looking for (or make it ourselves). For more information, give us a call at 763-537-7233 or stop by our store at 115 Willow Bend.