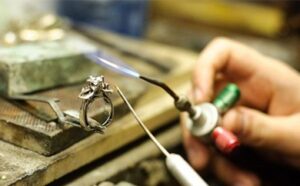 Choosing the perfect piece of jewelry for a loved one is more than just a gift. It is a statement of your love, your commitment and something that will be treasured for many years to come. Whether you are considering an engagement ring, a piece of jewelry for a special occasion like an anniversary or birthday, or for no reason at all, Johantgen Jewelers can help. We specialize in helping our customers find the perfect, unique pieces they are looking for. Jewelry is an investment, and you should get exactly what you are looking for, even if that means that it takes time to find. We offer a wide variety of rings, watches, bracelets, and diamond jewelry and we also are able to design custom pieces as well.
Choose The Perfect Piece Of Jewelry
As a local, family-owned company located in Crystal, MN, Johantgen Jewelers has developed a strong relationship with our customers, provide excellent professionalism and service, and strive to help you find the piece you are looking for. For these reasons, we have many repeat customers and generations of families who have shopped with us. We love this part of the business and believe that part of this stems from being able to offer a personalized approach to a jewelry purchase. Of course, you have many options when it comes to this decision. You can order online or go to a big box retail store, but you will not find the personalized approach that we can offer.
High Quality Jewelry And Excellent Customer Service
We encourage our customers to take their time when deciding on their next piece of jewelry. We are happy to show you pieces when you come into our store and can help you with the design process if you are hoping to create a one-of-a-kind piece. The options are endless, the quality will be unmatched, and you will be able to give your loved one a gift that they will love and cherish for a lifetime. We understand that this is a big investment you are making, and we want to be sure that you are happy with your choice. That is very important to us.
So, the next time you are considering a jewelry purchase, give us a call at 763-537-7233 or simply stop by our shop on 115 Willow Bend to see what we are all about. We hope to help you find that perfect piece of jewelry to show your love.