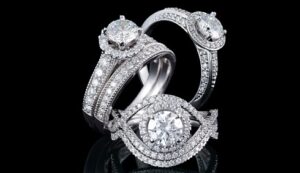 When it comes to an engagement ring, couples usually choose something that is classic and will work well for the wearer's day-to-day life, exactly as it should be. But that's not always the same as the years go by. How can you adapt your beautiful engagement ring into a piece that fits who you are after 5 years, 10 years, even 20 years together? There are several ideas for how you can upgrade your engagement ring to fit your needs and make it even more special, years after you say "yes!"
Ring Repair And Cleaning
While the sparkle may not have faded from your love for one another, you may not be able to say the same about your engagement ring. Every day your ring encounters dirt, oils, soap, lotion, and a multitude of external factors that can dull and diminish your gorgeous piece. Not only that but there may be damage that can't be seen by the naked eye. Scratches and dents can appear, and prongs can become worn, putting the stone in danger of coming loose. Restore your engagement ring to its former glory by having our jeweler examine the diamonds and prongs and see if any attention is required. The rings can be polished to like-new condition.
Ring Resizing
A decade of marriage can bring a lot of small challenges and changes that are out of your control. Along with all of that, our bodies can change a lot as well, namely, our hands. Whether it's childbirth, time, or simply chemistry, it's common for rings to not fit exactly like they once did. Make a date with your spouse to come in and have your wedding bands and engagement ring resized. Our team of experts will take great care of your rings and return them in perfect condition so you can celebrate your anniversary with a renewed sense of promise.
Remounting And Resetting
After much hard work, love, and dedication, you two have come so far together! One of our favorite ways to commemorate these moments is to work with a couple to reset their original diamond, or even upgrade it to something even more spectacular. Oftentimes, couples that have been together for years have a different budget than when they first married, and this is the time to choose something stunning that maybe wasn't an option 20 years ago.
Celebrate Your Anniversary
Engagement rings are an incredible symbol of your commitment and love for one another. It is just as important 10 years down the road as it was on your wedding day. Let us help you celebrate your love by updating the piece that started it all. For more information, stop by our Crystal, MN location on Willow Bend, email us at johantgen@live.com or call us at (763) 537-7233.