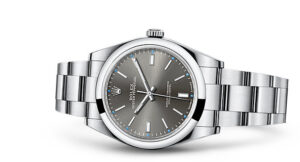 A Rolex timepiece is firmly established in the public consciousness as one of the ultimate status symbols, so it is no surprise that so many people seek to buy them. However, while many people automatically opt to buy a brand-new model, we believe people should consider purchasing a pre-owned Rolex instead.
The single biggest moment of depreciation for a watch is the moment when it goes from being 'new' to 'pre-owned'. Therefore, just like a new car, when you buy a brand-new Rolex, it depreciates in value instantly, even before it has sustained a single scratch or lost a single second in time. By contrast, second-hand Rolex watches depreciate far slower. Put simply, this means that should you ever decide to sell your watch, you will take less of a hit. Chances are, after a year of use, your pre-owned Rolex will be worth roughly the same as it was when you bought it. Conversely, a brand-new Rolex, after one year of use, will be worth substantially less.
Wider Selection Of Inventory Available At Purchase
While buying a brand-new watch has its advantages, the simple truth of the matter is you are restricted to buying the Rolex models that are currently on sale. If a collection is given a makeover, the watch you had your heart set on might no longer be part of it. Meanwhile, limited edition models are only sold as new for a short period. By contrast, if you look at the pre-owned market, you will find a far wider selection of Rolex models to choose from. When browsing Johantgen Jewelers in Crystal, MN, you may find discontinued models, extremely rare timepieces and previous versions of existing models, which may be made from different materials, or have different features.
Rolex Watches Are Engineered To Last
Unlike the huge number of mass-produced timepieces on the market that may only serve you well for a year or two, Rolex watches are manufactured from the best materials and are built to keep working, year after year. With a little bit of servicing, most pre-owned Rolex watches are returned to full working order and will serve you well for many years to come. Every watch Johantgen Jewelers sells has been meticulously serviced to ensure the highest level of performance and is presented with a two year warranty.
Finding The Perfect Pre-Owned Rolex Timepiece In Minnesota
There are numerous benefits to buying a pre-owned Rolex, including affordability, access to rare and original watch elements, and avoiding market depreciation of a new watch. If you are ready to become a proud owner, browse Johantgen Jewelers' fantastic selection of pre-owned Rolex timepieces. If you are in the market for a brand new watch, you'll also enjoy the wide selection of retail models. Contact us online or by calling (763) 537-7233 today.