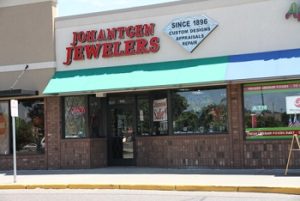 Dating all the way back to 1896, our family at Johantgen Jewelers began a journey that no one could have imagined would last this long. Over a century of expertise has developed within our doors and our goal is to incorporate that into our work every day. If you are looking to partner with a family owned and operated jeweler around Minneapolis, MN, our longstanding reputation should not be overlooked.
When it comes to jewelry, there often is a substantial amount of money that is being addressed. For that reason, we want our clients to be totally comfortable and confident every step of the way. Whether you are looking to purchase new jewelry or you are interested in selling or getting your jewelry appraised, we aim to provide a calm, pressure-free environment. What you will receive from our staff is the best quality workmanship paired with elite customer service. In fact, once your visit with our jewelry experts is complete, you'll feel like you are part of the family!
Jewelry Services Offered
Thanks to the amount of experience we have, we're able to provide our clients with a wide range of jewelry services all in one location. Wherever you are in life, we can handle all of your jewelry needs. Looking for the dream engagement ring for your future spouse? Interested in a reliable, classic watch? Have you inherited jewelry that you are ready to part ways with? Interested in the value of your jewelry? Our team can help you exceptionally well with all of these jewelry situations. Our primary jewelry services offered to our clients include:
● Custom Jewelry Design – Let us turn your jewelry dreams into a reality with our custom jewelry options.
● Jewelry Repair – No matter if you are in need of minor repairs like cleaning or your need the ring extensively repaired, our staff will get your repair done right the first time around.
● Engagement Rings – Our engagement ring selection cannot be matched.
● Watch Repairs – When it comes to servicing of high-grade Swiss watches, our watchmaker on staff has you covered.
● Diamond Jewelry – Full of various styles and designs, you'll find just what you have been looking for when looking through our hand selected diamond jewelry collection.
● Jewelry Appraisal – Our jewelry appraisers are experienced, fair and trustworthy. Our jewelry appraisal process is simple, and our appraisals come with no obligation.
● Gold Buying – Let us help you get the most for your gold jewelry that you are ready to part ways with.
● Gemstone Buying – Take advantage of the monetary value of your gemstones and let our team purchase these valuable items from you.
At Johantgen Jewelers, we take pride in being a family owned and operated jeweler in Minneapolis, MN. To learn more about our jewelry services or to schedule an appointment, give us a call today at (763) 537-7233 or email johantgen@live.com.